Our Curriculum Vision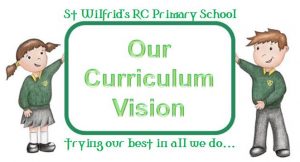 At St Wilfrid's RC Primary School, we believe the personal development of our children, spiritually, morally, socially and culturally plays a significant role in their ability to learn. We maintain high aspirations for all, developing drive and determination alongside resilience and resourcefulness to encourage the children to achieve their aspirations. We believe in a curriculum where academic success, creativity and problem-solving, respect, reliability, responsibility and resilience, as well as physical development, well-being and good mental health are key elements that support the development of the whole child and promote a positive attitude to learning.
St Wilfrid's is a UNICEF Rights Respecting School, where children learn to achieve their goals in an enjoyable, caring and respectful environment. We work together to ensure each child has the opportunity to thrive both in the classroom and in the outdoor learning environment.
Our Curriculum Intent
St Wilfrid's bespoke curriculum is tailored specifically to the needs of our children. It has been designed by staff, in full consultation with governors, parents and children. Clear strategic planning ensures the curriculum is dynamic, broad and balanced, and well-matched to our children and the context of the school. The curriculum ensures we build upon the life experiences of the children and provide opportunities for them to learn in a variety of environments.
Curriculum development is on-going and in response to detailed analysis of progress data and assessment for learning throughout the school. Our curriculum design ensures systematic and cumulative knowledge acquisition. It recognises the importance of clearly ordered content and the explicit teaching of skills, knowledge and vocabulary at each stage of learning. The order in which content, skills and vocabulary are taught supports children to build their knowledge and to apply that knowledge.
Our carefully crafted curriculum, whose content is chosen with thought and care, incorporates the statutory requirements of the Early Years Foundation Stage and the National Curriculum. In addition, we include a wide range of learning experiences to develop essential life skills: self-control, confidence, social skills, motivation and resilience. The aim of our curriculum is for children to have the requisite skills, knowledge and vocabulary to be successful, independent and motivated learners in readiness for the next stage of their education. By building their cultural capital, we develop children's aspirations, outlining possibilities for their future lives as global citizens.
Our Curriculum Implementation
Whilst we follow the EYFS curriculum and the National Curriculum and its requirements and a school overview is mapped out across the different key stages, our curriculum is ever changing as we are constantly researching and implementing the latest schemes, techniques and best pedagogical approaches for our children.
Currently, our English curriculum is supported using a framework developed by consultants within our Local Authority, Lancashire. It is enhanced by best practice, championed by leading experts such as Pie Corbett in his 'Talk for Writing' materials and Alan Peat and his 'Exciting Sentences' work.
Our Maths curriculum is primarily taught through the Maths No Problem Scheme. This is a Maths mastery approach using Singapore Maths techniques aligned to our National Curriculum. This scheme is complimented by the use of the Numberland Scheme and Mastering Number materials throughout our Early Years curriculum. In addition our two other infant classes ( Year 1 and Year 2) are utilising the Mastering Number materials this school year to supplement our MNP scheme.
In other subjects, our curriculum utilises a themed-based approach with some subjects taught within overarching topics. The knowledge, skills and understanding, outlined in the National Curriculum, are delivered to all children in Key Stages 1 and 2. Delivery of the curriculum recognises the importance of targeted questioning to develop children's vocabulary and knowledge, and assess their understanding. High-quality teaching and learning provides children with time to practise and consolidate skills using a variety of cumulative learning experiences. The pace of learning will differ depending on the abilities of individual children. Teachers use on-going formative assessment to systematically and effectively gauge understanding, and knowledge acquisition and retention.
The spiritual, moral, social and cultural development of our children and their understanding of British Values are embedded in all areas of the curriculum. Personal, Social, Health and Economic Education (PSHE) alongside Sex Education and Relationship Education (SRE) are taught discretely and throughout the whole curriculum. Our PSHE curriculum has been carefully mapped to include national events such as Anti-Bullying and Online Safety weeks but also to reflect our own school priorities such as Sun Safety and our UNICEF Rights Respecting work. As with all areas of the curriculum our work is enhanced by visitors to school and the opportunities we provide for our children to enhance their learning through bespoke visits and experiences outside school. For example, our Year 6 children are offered the opportunity to attend an overseas residential visit each year to France and Belgium, where we take part in various activities and ceremonies such as visiting war graves and wreath laying at the Menin Gate in Ypres, carefully designed to develop the children's understanding of respect and remembrance. Our PSHE work is underpinned by Gospel Values explicitly taught through the school's Roman Catholic ethos. We are part of the family of the Diocese of Salford and we use their recommended scheme 'Come and See' to deliver curriculum RE. A number of the older children are GIFT (Growing In Faith Together) Chaplains and help uphold our newly revised School Mission Statement, Catholic ethos and the rights of children all around school.
Throughout the Early Years and Key Stage 1, the children develop their phonic knowledge through the use of a Systematic Synthetic Phonics (SSP) Programme. Teachers incorporate many actions from Ruth Miskin's Read Write Inc programme to ensure a visual, auditory and kinaesthetic (VAK) approach to learning phonemes and graphemes. The children's ability to blend and segment sounds, and fluency in reading is then developed and supported through the use of carefully selected reading material. Reading is given the highest priority at St Wilfrid's. We don't just rely on a single Reading Scheme. Instead, we match the most suitable books from schemes such as Oxford Reading Tree, Project X, Collins BIG Cat etc to our readers' abilities and interests. We include a wide range of genres in order to foster a genuine love of books and reading. All our reading books are book banded, which means that every book band has its own colour linked to reading ability, which is indicated on the spine of each book. The children are constantly assessed when reading, meaning that sometimes it may not be necessary for them to read every book in each band before they progress to the next level.
At St Wilfrid's we are passionate about providing children with quality texts and developing a real love of books and reading. Therefore, we use many of the books suggested by Pie Corbett in his 'Reading Spine' as core books in every classroom. We want our school to be a place where children are read to, enjoy, discuss and work with high quality books. These 'essential reads' are a store of classics, creating a living library inside a child's mind. This is our 'Reading Spine'. These high quality texts are sometimes used as a basis for planning exciting units of work or as favourite stories at daily 'Storytime' sessions. The Reading Spine in each year group is central to the book stock and is supplemented by many other exciting and wonderful books. We strive to continually improve at St Wilfrid's and in this school year 2021-22, we have strengthened our 'Reading Spine, to include poetry and books of relevant interest to each class and our expanding school community such as books with significant BAME characters and other relevant minorities such as refugees.
Class teachers and teaching assistants work together to deliver year group expectations. All teaching staff recognise that children acquire knowledge, skills and understanding over time and create opportunities for children to revisit learning. In all classes, there are small group interventions to support children in gaining the key knowledge, skills and understanding in reading, writing and mathematics because this learning is essential for children to access the whole curriculum. In-class support and precision teaching ensures all children, including SEND and AGT make good progress. Specialist teachers and instructors support music and PE provision and selected visitors to school enhance key learning across the curriculum. Subject leaders develop subject knowledge, skills and understanding in order to support curriculum development and delivery throughout the school. Subject leaders support class teachers to develop pedagogy and ensure effective teaching and learning.
The outdoor learning environment, our close proximity to the Ribble Valley, and work with both the local community and other local cluster schools provide many opportunities for active outdoor learning. The school grounds have been extensively enriched to support learning in a variety of curriculum areas. Children have the opportunities to share their learning with each other, with their parents and carers, and with other learners through school-based and external performances, competitions and events involving other schools. Developing their independence and motivation as learners and their sense of responsibility as future citizens is at the heart of all our teaching and learning.
Our Curriculum Impact
St Wilfrid's Primary School monitors the curriculum provision throughout the year to gauge the impact of the curriculum design. Subject leaders monitor content, delivery, progress and attainment and, on a rolling programme, report findings termly to the Governors at the curriculum committee meeting. A combination of review, training, modelling, team-planning and coaching are used to support the on-going professional development and practice of staff in order to impact learning and progress. School plays a pro-active role within the Longridge Cluster family of schools (12 primaries, 2 high schools and a special school) in order to further drive school to school collaboration and improvement.
The knowledge, skills and understanding, outlined in the National Curriculum are assessed using a combination of 'Lancashire's Key Learning Indicators in Progress' (KLIPs), Lancashire Professional Development Service (LPDS) assessment grids, 'Test Base', NFER assessments and additional summative assessment materials. Summative assessment of learning takes place each half term. Formative assessment is on-going and refers to a wide variety of methods that teachers use to identify misconceptions and provide timely intervention to move learning forward. Formative assessment forms an integral part of teaching and learning. This assessment is carried out during learning and takes the form of discussions, observations and outcomes. Learning and the retention of knowledge is measured through careful analysis of the application of knowledge and skills across the curriculum. Teachers provide a wide range of creative opportunities for children to apply their learning and demonstrate their knowledge, skills and understanding. Learning and the retention of knowledge, includes vocabulary acquisition, comprehension and retention as we recognise that vocabulary size relates directly to academic progress and later chances in life. At St Wilfrid's we aim to produce lifelong learners.
Attainment and progress is monitored using school-based tracking systems. This ensures that both coverage and progression can be assessed throughout the school and confirm that children are meeting year group expectations. Children's progress is monitored and measured through their performance against individual, school and national targets. Detailed analysis of all data supports the development of the curriculum and of teaching and learning and school believes in quality CPD to develop both our staff and our curriculum.
The impact is evidenced by results throughout school usually being above national figures year on year. When this isn't the case school acts quickly with a specific School Improvement Plan to target any identified areas.